Drivers Make a Pledge
Rideshare drivers from companies such as Lyft and Uber pledge a portion of their tips to a cause they are passionate about.
---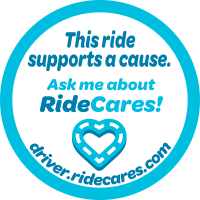 Be on the Lookout!
When you see this sticker in a car, you found a RideCares driver who is helping to make a difference!
---
Support a Cause
Your tips support a driver and a cause! In addition, voting for a cause to receive a weekly donation from RideCares enters you to win free rides!